Sophie's World
24 July 2017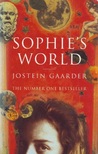 Sophie's World by Jostein Gaarder
My rating: 3 of 5 stars
I first read this book 20 years ago, and just finished re-reading it. As I'm sure most people know, it is a compact history of Western philosophy in the guise of a novel. I'd forgotten much of the plot of the fictional part, and it seemed to end differently and more disappointingly than it did the first time I read it.
It reminded me of a few things that I learnt in Philosophy I at university back in 1964, and also reminded me that I was a big fan of Kierkegaard in my teens, and rereading this reminded me why. It also got me thinking — was that a marker of a significant departure? Did young people of my generation choose two different paths — some became fans of Ayn Rand, and others became fans of Kierkegaard?
But the book does not mention Ayn Rand, and nor does it mention the modern/postmodern debate. Not a word about Derrida, Lyotard et al.