A Lancashire childhood
21 November 2017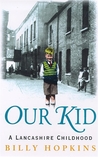 Our Kid (The Hopkins Family Saga, Book 3): The funny and heart-warming story of a northern childhood by Billy Hopkins
My rating: 4 of 5 stars
I'm not sure if this is a semi-autobiographical novel or a fictionalised autobiography, but whatever it is, I found it very interesting. A few years ago I re-read A Touch of Daniel, which gives a picture of urban Lancashire life in the 1960s, and this book does much the same thing for the 1930s and 1940s.
Worse than the ordinary, miserable childhood is the miserable Irish childhood, and worse yet is the miserable Irish Catholic childhood.
A saying attributed to Frank McCourt, author of Angela's Ashes. Lancashire is not far from Ireland, but this Lancashire Catholic childhood, though it had its ups and downs, does not seem to have been quite as miserable as the Irish variety, and the miserable bits are balanced by joy and good humour.
At one point the author was encouraged by a teacher to keep a diary, and perhaps drew on that for some of the material in this story, but I suspect that much of the dialogue was made up later, because there are a number of anachronisms. At one point one of the characters uses the simile of a hamster running in an activity wheel, but I think that at that time, about 1945, hamsters were probably unknown as pets. I recall seeing them advertised in magazines like Popular Mechanics in the 1950s, when they were clearly regarded as a novelty, and it was assumed that most people would be unfamiliar with them.
That is where [book:A Touch of Daniel} probably gives a truer picture at least of the language that was current at the time. Trying to recall dialogue even of a period you have lived through, is not so easy. But it still for the most part reads naturally.
I picked up the book from the library mainly because some of my ancestors came from Lancashire, though they lived about 80-90 years earlier, but the book still gives a feel for the places where they lived.