Black Diamond: yuppie life in the new South Africa
16 May 2019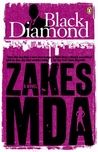 Black Diamond by Zakes Mda
My rating: 5 of 5 stars
Don Mateza works for a security company in Johannesburg, and his ambitious girlfriend Tumi, who runs a modelling agency, is grooming him to become a "Black Diamond", one of the nouveau riche of the new South Africa. Don is asked to be the bodyguard of an uptight white female magistrate, who has been threatened by a petty criminal she has sentenced to prison, and there is the hope of promotion if he does the job well. This does not satisfy Tumi, however, who thinks it demeaning, and Don has to spend too much time away from her. The magistrate, Kristin, did not ask for protection, and sees having a bodyguard as a sign of weakness.
In this scenario Zakes Mda weaves a plot of shifting loyalties and the conflicting values that characterise the "new" South Africa, though it was already ten years old in the time the story is set, and is another fifteen years older now.
I had only recently finished reading Mda's memoir Sometimes there is a Void and so was aware that a lot of this book is based on his own real-life experiences. It is social satire, and the story is rather sad, but Mda also sees the funny side of it. I gave it five stars, on GoodReads, but perhaps that is because it is set close to home, and if I were living on another continent I might have given it fewer. Though I don't move in the kind of social circles described in the book, it looked pretty authentic to me.
It also seemed to complement another book I had recently read, Darkness Suspended, though the tone in that one is much more serious, and lacks Mda's humour. Both show life in Gauteng, and both observe similar events. Zakes Mda is an atheist and Jurie Schoeman is a Christian, and that could account for some differences, but the picture they give is broadly similar.
One of the debates in South African literary circles has been about what post-apartheid literature should look like, and perhaps these two books provide one answer. The debate was influenced by a book of essays published by Njabulo Ndebele in the 1990s, Rediscovery of the Ordinary: Essays on South African Literature and Culture. I've not read it yet, but I have read quite a lot about it, and I gather that the main thesis is, as the title suggests, that post-apartheid literature should not be dominated by political protest, but should rather deal with ordinary people and ordinary lives.
These books do so to some extent, though there is a strong element of political protest in Mda's book. The message from Mda is that the new South Africa wasn't meant to be like this, and shows how its failings affect people. The System has changed, but it remains the System, and it still crushes people. The emphasis in Darkness Suspended, however, is more on whether one's Christian faith can withstand what the System throws at us, and whether and how one's faith can help one to cope with the System and one's own personal weaknesses. How "ordinary" any of this is is a moot point.
But reading these books makes it very clear to me that I could never write like this, not just because I don't move in those social circles, and so my notion of what is "ordinary" is probably quite different. But to me the "ordinary" remains the apartheid period, and protest, and the roles of ordinary people in that. Perhaps it's because I like reading and studying history, and live in the past, and so most of what I write about is "Tales from Dystopia".